Barnstorming Ohio to Understand America
David Giffels gives us insight into America and Americans in his new book
Ohio has picked the winner of the presidential election 29 out of 31 times since 1896… so they must be on to something. David Giffels traversed the state to find out what the people of Ohio were thinking about the election and what challenges they were facing. He put his discoveries down in his book Barnstorming Ohio, To Understand America.
There are 5 distinct different areas of Ohio, which makes it the cross-section of America, and gives us some insight into what the people of our country are thinking. In our chat, David explains what issues each area deals with, how Amazon is changing the landscape of Ohio, AND America, by taking over decaying malls, and how farmers are trying to survive despite the trade wars and bad weather.
Will Ohio get the presidential election right this time? No matter if they do or not, we'll have a better understanding of America and Americans, by Barnstorming Ohio with David Giffels.
Click on the player below to hear the chat with David and Pam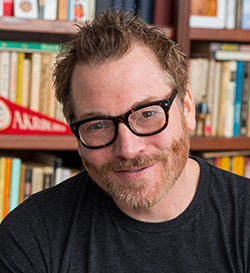 About David Giffels
Barnstorming Ohio author David Giffels has written six books of nonfiction, including the critically acclaimed memoir, Furnishing Eternity: A Father, a Son, a Coffin, and a Measure of Life, published by Scribner in 2018. The book has been hailed by the New York Times Book Review as "tender, witty and … painstakingly and subtly wrought," and by Kirkus Reviews as "a heartfelt memoir about the connection between a father and son." It was a Book of the Month pick by Amazon and Powell's and a New York Times Book Review "Editors' Choice."
His previous books include The Hard Way on Purpose: Essays and Dispatches From the Rust Belt (Scribner 2014), a New York Times Book Review "Editors' Choice" and nominee for the PEN/Diamonstein-Spielvogel Award for the Art of the Essay, and the memoir All the Way Home (William Morrow/HarperCollins 2008), winner of the Ohioana Book Award.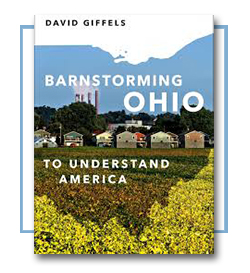 ​Giffels is the coauthor, with Jade Dellinger, of the rock biography Are We Not Men? We Are Devo! and, with Steve Love, Wheels of Fortune: The Story of Rubber in Akron.
A former Akron Beacon Journal columnist, his writing has appeared in The New York Times Magazine, the Atlantic.com, Parade, The Wall Street Journal, Esquire.com, Grantland.com, The Iowa Review, and many other publications. He also wrote for the MTV series Beavis and Butt-Head.
His awards include the Cleveland Arts Prize for literature, the Ohio Arts Council Individual Excellence Award, and a General Excellence award from National Society of Newspaper Columnists. He was selected as the Cuyahoga County Public Library Writer in Residence for 2018-2019.
Giffels is a professor of English at the University of Akron, where he teaches creative nonfiction in the Northeast Ohio Master of Fine Arts Program.
For more about David: Click here
For his book, Barnstorming Ohio: Click here
Follow him on twitter: Click here
For his Facebook: Click Here