A Transformational Journey to Achieving Success with
Acting Coach Bernard Hiller
A Masterclass on how to be happy and unstoppable
Are you ready for a masterclass from the premier Hollywood acting and success trainer? Whether you're a performer or not… we've got you covered!
Bernard Hiller shares insights from his latest book, The Revolutionary Guide to Acting: A Transformational Journey to Achieving Success in Show Business and Life. We learn how to become unstoppable, how to create "wow" in an interview or audition, and why Al Pacino has gone to an acting coach weekly for 35 years.
Plus, he shares the three stages of success, the secret of life, and tells us that we may be wearing the wrong coat!
Get a pen and paper because there is so many gems packed into this interview. AND he gives us homework!
Click on the player below to hear the chat with Pam and Bernard

About Bernard Hiller

Bernard Hiller is an author, actor, screenwriter, producer, director, interviewer, teacher and success trainer. He started as a performer in NYC and Europe, doing Broadway musicals. From his Los Angeles studio, Bernard has helped stars, performers and actors succeed to the highest level in the industry. His sought-out Masterclasses are taught in over 24 countries. Bernard lives in Beverly Hills, California.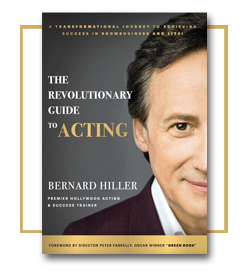 For more about Bernard: Click Here
For his book, The Revolutionary Guide to Acting: Click here
Follow him on Instagram at @Bernard.Hiller
TikTok: BernardHiller