Have you ever wondered how you could make a bigger impact in the world, but you weren't sure how to start? CEO, entrepreneur, documentary film executive   and author Anne Devereux-Mills has some ideas for us! The founder of Parlay House, Anne shares why the Parlay Effect (also the name of her book) can help us make connections and change the world.
She also shares how we can make those painful transitions in life a little easier, what to do about our fear of not being perfect, and how small things can make a big difference. Plus, she'll also tell us how to start our OWN Parlay House!
Listen to the chat with Pam and Anne by clicking the player below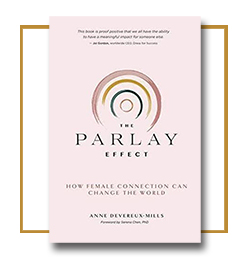 Anne Devereux-Mills is the accomplished CEO, entrepreneur and documentary film executive behind Parlay House, a salon-style series of gatherings she founded in 2012. Parlay House is committed to sparking authentic conversations and building meaningful, supportive relationships across a diverse range of women. It currently has over 5,000 participants and operates in seven cities across the U.S. and Europe.
Devereux-Mills is also a dedicated mentor for SHE-CAN, an organization supporting and grooming the next generation of female world leaders coming from post-genocide countries. She was a key member of the team that helped pass California's Proposition 36, which brought fair sentencing to thousands of non-violent inmates as part of California's Three Strikes reform. Following that victory, she was the Executive Director for the Emmy-nominated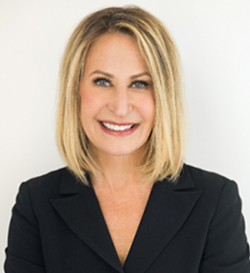 documentary film entitled, The Return and is currently Executive Directing two additional films, Mississippi Red and The Green Dress. Devereux-Mills supported Stanford University by serving as the Executive Director of Healthy Body Image Programs. Her philanthropic work has been recognized by a range of organizations including SHE-CAN, Advertising Women of New York, The All-Stars Foundation, Project Kesher and Worldwide Women.
Prior to her philanthropic ventures, Anne served in leadership roles at BBDO, LLNS and TBWA/WorldHealth, Consumer Healthworks, a division of Merkley and Partners, as well as Harrison & Star. Anne also helped launch the iHUG Foundation, a not-for-profit school in Uganda supporting some of that nation's most needy children.
For more about Anne Devereux-Mills, visit her website here.
Learn more The Parlay Effect here: TheParlayEffect.com
Learn more about Parlay House here: ParlayHouse.com
Follow Anne on twitter @annedevmills 
Follow Anne on Instagram @annedevmills
You can find her on LinkedIn: Here
To get Anne's book The Parlay Effect on Amazon, click here