Katherine Moore, Daughter of NASA mathematician Katherine Johnson, talks about their children's book One Step Further

If you've seen the inspirational film Hidden Figures, you know a little of how women, especially black women, were treated during the 50s and  60s,  especially in male-dominated industries. The stories of  Mary Jackson, Dorothy Vaughn, and  Katherine Johnson helped us to understand what challenges women faced.  Katherine was the NASA mathematician whose calculations were critical to manned space flights, from Project Mercury with John Glenn, all the way up to the moon flights and space shuttles.
Before she passed away at 101 in February of 2020, Katherine and her two daughters – Joylette Hylick and Katherine Moore — wrote a children's book about her life and the racism and misogyny she faced.  Published by National Geographic, One Step Further: My Story of Math, the Moon, and a Lifelong Mission is a deeply personal portrayal of female empowerment, women in STEM, and the breaking down of racial barriers across generations.
It's a wonderful book that will inspire little girls for generations to come!
We talked to Katherine's daughter Katherine Moore, and got some insight into their lives. We talked about growing up in the 50s and 60s with Jim Crow in full swing, what kind of an impact her mother had on the space program, and what she hopes children will take from this remarkable book.
Click on the player below to hear the chat with Katherine and Pam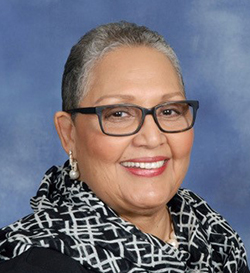 About Katherine Moore
After attending Bennett College and Hampton University, and receiving a Masters of Science in Information Systems from Montclair State University (formerly Montclair State College), Katherine Moore spent 33 years working in public education as an educator and guidance counselor in New Jersey. She currently resides in Greensboro, North Carolina.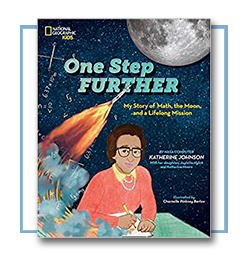 ​
For more about Katherine Johnson: Click here
For the book, One Step Further: Click here